Published on 09/22/09 at 01:44:06 pm using 35 words.
Thank you very, very, very much.
[Click on the thumbnail for a larger view]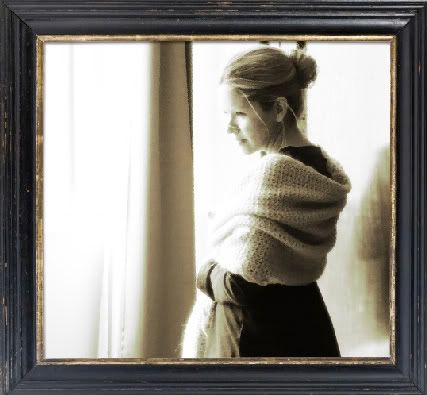 This post is the creative work of
Iris Watts Hirideyo
and is licensed under a
Creative Commons Attribution-Noncommercial-No Derivative Works 3.0 License
.
8 comments
09/22/09 @ 04:04 pm
Talk about gorgeous!
Btw: HOW did u get Lizzie Benett to pose for ur pic????? Amazing, really!
09/23/09 @ 08:42 am
It is a truth universally acknowledged that a young woman in possession of a handsome shawl must be in want of a photograph. ;)
Many thanks to you both for your invariable kindness.
(Hehehehe!)
09/23/09 @ 09:21 pm
SHUT UUUUUUUUUUP!!!!!!!!!! OMG! Rs, that's as an awesome answer as they come!!! Lol, no wonder u wanted me to read it right away!!!! It doesn't get any better!!!!
Great great undescribably great answer!!!!! Uneffingbelievable! Loved it, loved it, loved it, rs!!!
09/24/09 @ 09:19 am
Told ya! ;) I had to leaf through the book for an hour or so to come up with it, though… Hehehe!
Another idea for ya…
The Natalie Version:
A young woman in a handsome shawl… pede uma foto! Woo-hooooooo!!!
09/24/09 @ 09:33 am
It looks so good on you! (And you wear it well, like a big wrapful hug) >:D<
09/24/09 @ 12:08 pm
09/24/09 @ 12:22 pm
09/26/09 @ 11:35 am