Published on 08/26/12 at 10:40:00 pm using 868 words.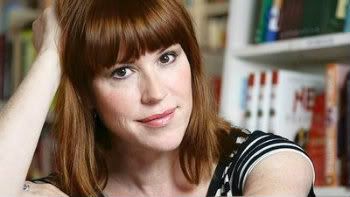 One thing leads to another and another in my brain faster than most people can keep up. I can barely keep up myself. Recently, a link on my Facebook newsfeed to a piece written by Molly Ringwald for the New York Times about her experience writing and acting piqued my interest, just as anyone else's thoughts on writing would be likely to do. With the possible exception of Jackie Collins. I'll rephrase that. With the dead certain exception of Jackie Collins.
Ms. Ringwald had this to say:
When I write fiction, I know exactly how the words should sound in my head, but it's up to the readers to imagine for themselves how they sound. In a way, then, fiction readers are really turned into actors…
…which immediately took me back a few years to being asked by A. for my thoughts on audio books. My faulty memory assures me I scrunched up my face on that occasion, as we tend to do when the subject at hand is, not something we've tried and therefore can't commit to an opinion with any authority, but also something that rubs us the wrong way and about which we nurse some very real if unspecified reservations.
After going through my then unexplored thoughts for some presentable arguments, I decided audio books might simply cramp my reading experience if ever given a shot. A voice other than my own however appropriate, impartial and unencumbering would inevitably carry out the duties of a bouncer and turn away my own inflections at the door, ultimately doing nothing but a disservice to my savoring of the story.
Since then I've come to strongly believe that a reader's voice and input are essential to whatever personal good a given book might do any given person. There are blanks to everything, nothing is complete enough to reject interaction and input. The reader is meant to fill in those blanks, which will in turn, vary from reader to reader.
As readers, we must be allowed to roam freely in the situation presented and described to us. We must be able to silently intone and eventually come to our own conclusions as to the characters, their personalities, choices and motivations. Whomever they may turn out to be, whatever they may turn out to mean…
Ms. Ringwald followed with this:
Ultimately, I believe that the true collaboration involves the audience, or in the case of the novelist, the reader. These are the people who truly make the characters live. And now, as the metaphorical curtain is about to go up on my own book, I sit in the audience, alternately anxious and elated, waiting to see how these actors will transform my words through their own personal experiences.
And those last words "…these actors will transform my words through their own personal experience," led me right back to one of the first Inside the Actors' Studio to ever air and guest Meg Ryan.
Ms. Ryan, in her answer to the last audience question in the broadcast version of her appearance, evoked that same respect for individuality, that same appreciation for whatever any given brain, heart, soul or perspective might have to add or contribute to a work of fiction. Here's how she put it:
As an instrument… you wanna be able to know what it is in your experience that will serve… the character. You don't want that other stuff in your way, you wanna free yourself up, you wanna, you wanna stay as clear as you can be, for that object, for that final thing that the audience will feel what it is that the playwright, the movie writer, the director, wanted them to feel. The reality is, I am this set of experiences which I have interpreted, and I have had and therefore I can't ever be just a clear - for me, this is just for me - a clear lens between the story and the audience. I'm a prism at best. Because I am and you all are and we all are and that's why… you know… it's not why we're here but… all our lives are a collection of… all those characters' lives you're gonna play are a collection of those things and so… me and my experience and my life and the things that have happened to me and the stuff that I know is in some way going to seep in, in some way… a character. You interpret things differently than you interpret things. And that's what's great about this art form. That you will interpret different than you will. And that we will see it. And see something new because you did it and you didn't. Or you did and you didn't. I think that's what's glorious!
Whatever the art form in question, whatever the end product, be it a painting, a sculpture, a movie, a play, a poem, a short story, a novel, there is a nontransferable role that can only be played by the receiving end - the observer, the watcher, the reader. Just as it should be.
This post is the creative work of
Iris Watts Hirideyo
and is licensed under a
Creative Commons Attribution-Noncommercial-No Derivative Works 3.0 License
.
1 comment
I seriously love your website.. Pleasant colors & theme.
Did you create this amazing site yourself? Please reply back as I'm attempting to create my own personal site and would love to find out where you got this from or what the theme is called. Kudos!
12/16/12 @ 01:42 am