Published on 05/29/11 at 07:03:34 pm using 370 words.
Those who know me, know this: Color is scarce in my wardrobe. There's a red item here, a blue one there, the one pink dress some people wish I'd wear more often… ;) and a whole LOT of black and gray. I've never really been into patterns or colors, always gravitating towards what was most neutral, least attention-grabbing.
Then one day in the early 90's I walked into a clothing store on 34th street and my browsing took an unexpected turn. To this day, I don't know what came over me but I laid eyes on a coat of many colors (as someone I went to high school with, described it) and I quite simply fell in love. With a coat. Of many colors.
Love at first sight for an inanimate object (a piece of clothing, a piece of furniture, what have you…) can feel inappropriate. Just the choice of word… love… it seems, well… N/A. But there you have it. The feeling that defies explanation and understanding. Undeniably there.
This laying of eyes on something and having to have it, is very much like falling in love, only less complicated. More businesslike. A potential transaction. If you can afford it, you reach for your credit card and it's yours. But still based on feelings. Based on whatever it is about you that finds its match in the object, that gives it importance, that wants to and is willing to make something personal out of it.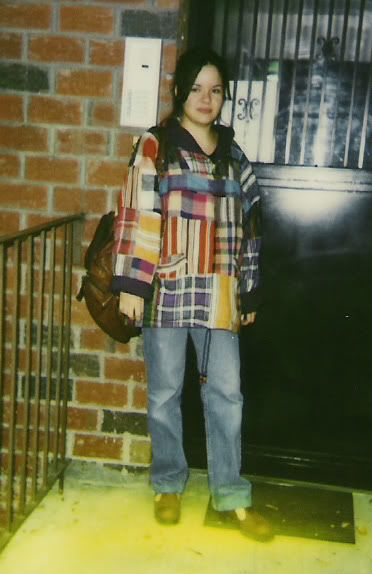 I literally loved everything about that coat. I remember it was reversible. Purple on the inside, many colors on the outside. Comfy, ample hood.
I don't have it anymore. I don't remember what became of it. I wish I still had it.
I loved it as well as the fact that it gave me a chance to surprise myself.
…I feel really alive when I want something more than just basic survival needs. I mean, wanting something whether it's… intimacy with another person, or a new pair of shoes, is kind of beautiful… I like that we have those ever-renewing desires.

(Before Sunset)
This post is the creative work of
Iris Watts Hirideyo
and is licensed under a
Creative Commons Attribution-Noncommercial-No Derivative Works 3.0 License
.
No feedback yet