Published on 09/12/07 at 08:21:15 pm using 142 words.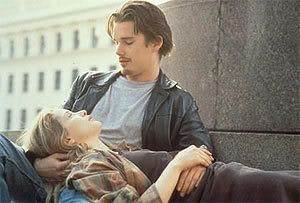 Daydream delusion
Limousine Eyelash
Oh, baby with your pretty face
Drop a tear in my wineglass
Look at those big eyes
See what you mean to me
Sweet cakes and milkshakes
I am a delusion angel
I am a fantasy parade
I want you to know what I think
Don't want you to guess anymore
You have no idea where I came from
We have no idea where we're going
Lodged in life
Like two branches in a river
Flowing downstream
Caught in the current
I'll carry you. You'll carry me
That's how it could be
Don't you know me?
Don't you know me by now?
You can find an audio version on the poet's website.
12 comments
09/15/07 @ 10:26 pm
simply amazing … tx for putting it up
06/01/08 @ 01:51 pm
Amazing indeed. You're very welcome. :D
06/02/08 @ 08:05 am
one of my favourite movies and the favourite scene in it! as for the poem…wow! no words!thanks so much for that:)))
01/25/10 @ 02:33 am
My pleasure! It has that effect on me too… :D
01/25/10 @ 06:49 am
Comment
from:
Delusion Angel
[Visitor]
This is one of my favorite movies, and especially in the love genre. The poem speaks to every relationship in our lives, not just romantic though and that's what I love about it. It really does touch my soul. Thank you for this beautiful posting that details such a fantastic moment in the film.
Delusion Angel
06/09/10 @ 01:21 pm
this is beautiful. fell in love with it the very first time i saw the scene in the movie where the austrian poet on the river-side reads it to Jesse and Celine. the poem reminds me so much of the one and only person i've fallen in love with ans everytime i read it, i cherish the memories i had with him.. it makes me miss him. its beautiful.
09/04/11 @ 01:43 pm
In total agreement with you. I just love the entire arch of the storyline spanning both movies (Sunrise and Sunset) that detail two experiences that fascinate me. Really 'meeting somebody, making a connection' to quote Jesse and finding them again against the odds. I always love to hear that I'm not alone in cherishing the poem, the movies and the characters. Thanks for sharing your thoughts!
09/04/11 @ 05:48 pm
Comment
from:
Aldo Elam Majiah
[Visitor]
this is an amazing poem in a great movie altogether. Thx for putting this!
12/19/11 @ 12:34 am
Actually, I wrote the poem.
It turned 23 years old on Feb. 26th.
It should be "lodged in life" instead of launched.
a couple of other things too.
I have it on my website, with a spoken word version with
my friend playing guitar. Thanks for posting it.
Just wanted to say hi.
03/11/13 @ 12:57 am
Wow, what an honor! I'll get to that correction in a second and I'll be adding the link to your site as well. Thanks for dropping by! A real honor :)
03/11/13 @ 08:20 am
03/28/13 @ 03:02 pm
This post has 1 feedback awaiting moderation...