Published on 10/12/09 at 01:25:19 pm using 1238 words.
There's nothing particularly fabulous about Amélie Poulain's destiny or her life for that matter. For starters, she's almost painfully shy. She grows as the subject of scrutiny. The scrutiny of a writer, of a filmmaker, of an actress, of an audience. She grows to be larger-than-life on the big screen (just as we alternately grow and shrink in life as the subjects of self-scrutiny, self-centeredness and an endless trail of actions and reactions.) She is sort of timeless too. She's part contemporary, part a throwback to a different era altogether. Vivid enough up close to color the world around her as a painter would a canvas. And… she's all about little things. She's in essence a little thing herself.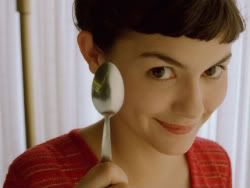 This last part turned title came to me, after my latest viewing of Le Fabuleux Destin d'Amélie Poulain a month ago, in the form of a light bulb over my head. Hmmm… an epiphany-scented candle over my head. Yes, that sounds more in keeping with the spirit of Amélie. And here's where I fell in love with her all over again - discovering a shared affinity in little things.
She's all about little things… That's as far as I got when I mentioned I had gained a new understanding of Amélie Poulain and my listener asked me to expound. Words failed me and in my usual response to challenges, I decided to sit down and attempt to make some sense of myself, to myself.
Amélie, the movie, is a celebration of details and small pleasures. They're sprinkled throughout the narrative like potent seasoning. They make up the common thread that weaves the story's characters together in a single tapestry as well as the means by which they are introduced, revealed and developed, major and minor alike.
"Il/Elle n'aime pas… Il/Elle aime…" (He/She doesn't like… He/She likes…) followed by a captivating, unpredictable list. The kind that makes you the target of a random smile in search of a face, directed at some ineffable delight. A list that is brief, particular and wonderfully distinctive.
Elle cultive un goût particulier pour les petits plaisirs. Plonger la main au plus profonde dans un sac de grains, briser la croûte des crême brulées avec la pointe de la petite cuillere.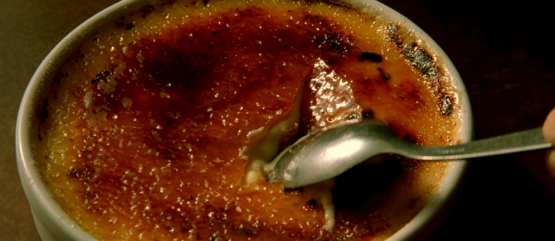 Elle aime sa façon délicate de saisir les endives comme si c'etáit des objets précieux qu'il devait manipuler avec respect. C'est sa manière à lui, de manifester son amour du travail bien fait.
Rodrigue, quant à lui, il aime entendre des histoires d'enfant

(Le Fabuleux Destin d'Amélie Poulain)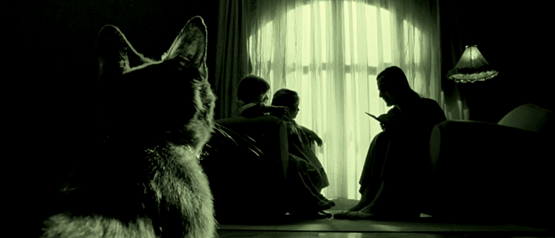 The world of little things can pull you into its orbit as easily as a dustbuster would a speck of dust. It's likely to reprogram you to read far more into things than you thought yourself capable of, by surrendering the reins of life to imagination. John Guare wrote in Six Degrees of Separation:
I believe the imagination is the passport that we create to help take us into the real world. I believe the imagination is merely another phrase for what is most uniquely us. Jung says, 'The greatest sin is to be unconscious.'
A la même seconde, a la terrace d'un restaurant à deux pas du Moulin-de-la-Galette, le vent s'engouffrait comme par magie sous une nappe faisant danser les verres, sans que personne ne s'en aperçoive.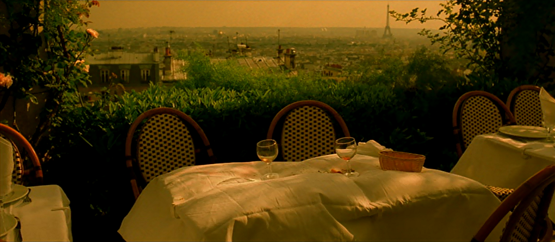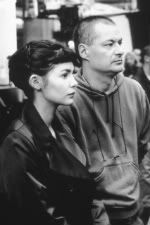 Mlle. Poulain and her creator Jean-Pierre Jeunet take their leap into the imagination and the real world not by magnifying their surroundings and not by focusing on major events but by placing a magnifying glass over those things which may seem beneath the effort it takes to see.
Details.
Little things.
They set out to find new worlds in little things.
In this very one we co-habitate, a world of so much redundancy and mediocrity, of so little independent thought, where the majority marches in a single chosen direction leading unworthy paths to unworthy destinations, where formulas and emulation are the prevailing choices, Amélie dares to turn off her TV set - ignoring the day's breaking news (even on one August 31st, 1997) - and instead look behind a bathroom tile to find a box from a stranger's past. It is a private, impulsive choice, a small gesture, and even smaller find, anything but a newsworthy event but capable of nurturing into existence the loveliest and most sui generis of storylines.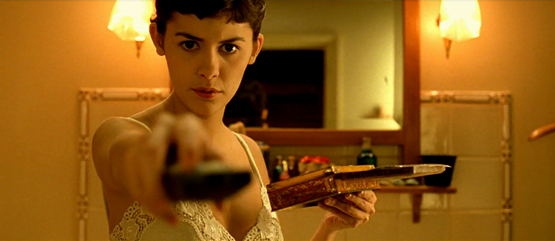 It is not exactly effortless, this tendency towards a closer look at what's closer at hand. It may feel natural but it is often the consequence of an inner struggle of some kind - an innate introversion that hinders socialization, or the yearning for seclusion that sets in once the odds of making affinity-based connections proves slim to none. In other words, when you look 360º around yourself to find… anything but 'kind', anything but 'red'.
Amélie is both, to me. A veritable kindred spirit.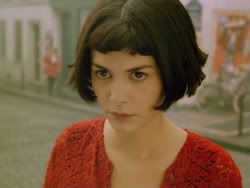 Repetition begets clichés just as originality averts them. What is a cliché after all if not a giving into the common thought and the commonplace? A headlong dive into a moshpit of sameness and safe, pre-tested choices. And what is originality if not the outright avoidance or repudiation of everything that has already been done and seen?
Solitude provides a niche for the untapped wells and uncharted territories that are likely to elude inside-the-box thinkers. Amélie is one such loner who is able to think outside the box precisely because she lives in one and struggles to connect.
Amélie takes the longer, more interesting route towards any given end, whether it's getting the attention of someone who changes her heartbeat for the faster or convincing a loved one to step forth into the world and give life their best shot. Or still solving a mystery sprung from a kindred spirit and fueled by her own inability to see the world in the simplest terms.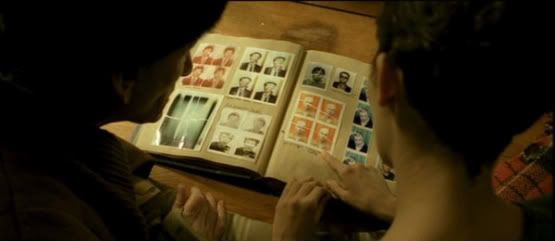 FRIENDS DESCRIBED AMÉLIE POULAIN STYLE:
Alicia doesn't like ponytails that swing like a pendulum as the women wearing them walk.
Alicia likes to find words that can be perfectly yet not predictably split into entirely unrelated words.
• Kindred = Kind + Red
• Thinking = Thin + King
• Looking = Loo + King
• Together = To + Get + Her
• Expensive = Ex + Pensive
Marlon doesn't like incomplete collections. Neither does he like to lend individual movies that belong to a series (a trilogy, for instance.)
Marlon likes to compare personalities from different fields. ("Daniel is the Brazilian Bon Jovi," "Kaká is the Sandy of soccer.")
Robbie doesn't like to see strands of hair on or hanging from people's clothing.
Robbie likes to have all sensations felt by both hemispheres of her body.
Ronny doesn't like to be called by his first name in public.
Ronny likes to imagine a soundtrack playing while he walks down the street.
Marina likes to go into a movie theater in the daylight and leave after it's already dark.
Trisha doesn't like it when people lean against a subway car pole as if it were private property.
Trisha likes to sink her teeth into styrofoam cups.
Amélie: J'aime bien me retourner dans le noir et contempler le visages des autres spectateurs. Et puis j'aime bien repérer le petit détail que personne ne verra jamais.
This post is the creative work of
Iris Watts Hirideyo
and is licensed under a
Creative Commons Attribution-Noncommercial-No Derivative Works 3.0 License
.
No feedback yet