Published on 07/29/09 at 05:59:29 pm using 232 words.
Ed: Boy, Marilyn, I've been thinking about this lightning thing so much, I've gone and given myself a headache.

Marilyn: Maybe you shouldn't think about it.

Ed: I tried that, too. When I try not thinking about it, the only thing that goes through my head is still It. (pause) Who do you think is right? Is it a nihilistic universe with no meaning, oh, other than survival, or does the enlightenment view prevail? Does the Creator have a master plan, and if so, what is it?

Marilyn: My uncle once told me about a warrior who had a fine stallion. Everybody said how lucky he was to have such a horse. "Maybe," he said. One day the stallion ran off. The people said the warrior was unlucky. "Maybe," he said. Next day, the stallion returned, leading a string of fine ponies. The people said it was very lucky. "Maybe," the warrior said. Later, the warrior's son was thrown from one of the ponies and broke his leg. The people said it was unlucky. "Maybe," the warrior said. The next week, the chief led a war party against another tribe. Many young men were killed. But, because of his broken leg, the warrior's son was left behind, and so was spared.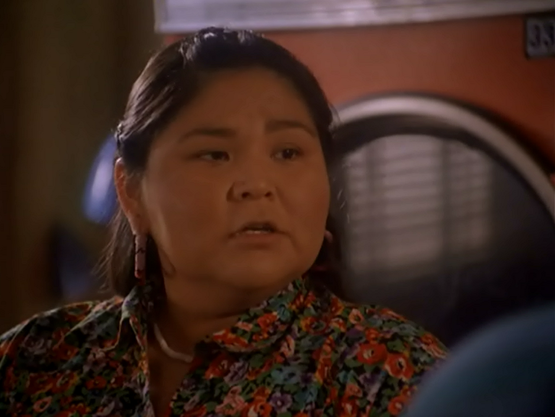 This post is the creative work of
Iris Watts Hirideyo
and is licensed under a
Creative Commons Attribution-Noncommercial-No Derivative Works 3.0 License
.
5 comments
Loved this episode. I loved the entire show. One of highlights of trip to AK some years ago was Talkeetna, town that inspired the show. Which season is this episode in?
04/20/11 @ 10:01 am
That's a good question… I'm not really sure…
Just looked it up. It's episode 14 (Bolt from the Blue) from Season 5. :)
Glad you enjoyed the post and thanks for stopping by!
04/20/11 @ 11:53 am
Thänk You ever so much, I was looking for the exact words in this tale, in this series, and found it here. I love this show, which tells about everybody in a human and interesting way. There are no bad people in this show.
01/22/13 @ 02:27 am
You're welcome! I agree 100% and miss the show a lot. Glad I could be of help.
01/23/13 @ 03:02 pm
So glad I found this. I loved the Marilyn character. I watched every episode of Northern Exposure and this scene was my absolute favorite. Ever since I saw it has popped into my thoughts every month or two for no apparent reason.
02/11/17 @ 11:37 am